ALTBalaji completes 2 years!
After the completion of their first year, it brought a few amazing concepts involving different stories.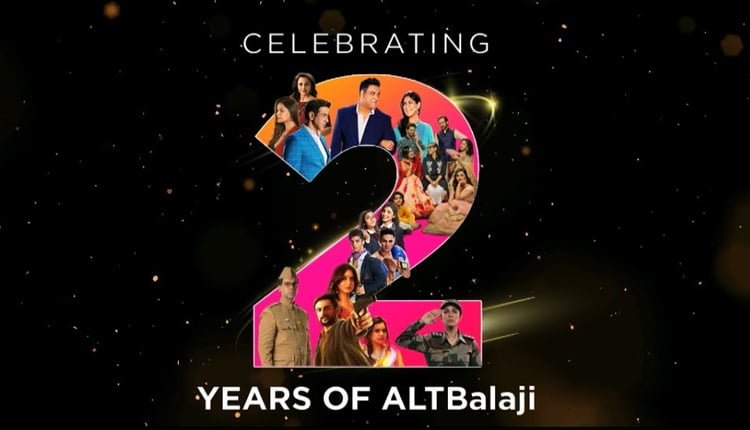 The new definition of 'Digital Entertainment', ALTBalaji, one of India's leading web series platform completes 2 years of success. Although a relatively new entrant to the industry, ALTBalaji has become a name to reckon by experimenting with bold content with web-series like X.X.X, Gandii Baat etc. along with marquee shows like 'Apaharan'.
After the completion of their first year, it brought a few amazing concepts involving different stories. 'Broken but Beautiful' , 'Hum- I'm because of us' , 'The great Indian Dysfunctional Family' and 'Home' are some of the path-breaking content available on the platform; while shows like 'Gandii Baat' and 'Apharan' were the ones which kept the viewers engaged and entertained. They had the highest rates of engagement with an average of 77 minutes spent for viewing by the subscribers. However it was 'Apharan', an action drama that captured the maximum number of eyeballs. The web-series scored positively with critics as well as audience and managed to get an impressive 8.7 IMDb rating. In addition to the progress that they have made in their nascent years and their unique content, ALTBalaji is associated with a talented pool of top class actors, writers and directors, who always try to give us something different, catering to different set of audiences.
Nachiket Pantvaidya, CEO ALTBalaji and Group COO, Balaji Telefilms celebrating the occasion of their 2nd anniversary quipped,
"Entertaining viewers with innovative content has been the core ethos of the group and very significantly runs in the DNA of ALTBalaji too. Celebrating the journey of 2 glorious years is a very proud moment for us as we set foot into the third year. By constantly working on an effective content strategy to cater to individuals , we aim to ramp up our offerings in the originals space at an exciting pace. With a total of 18 new originals across genres launched last year, the content – library is growing bigger and getting more extensive. This also reflects in our growing subscriber base, with ALTBalaji consistently ranking in the 3 Top grossing apps on both iOS and Android.''
With 36 originals as of now, the platform aims to further increase this content library with a promise of around 100 shows until 2020.
Wishing the platform and everyone associated with it, happy 2 years!
Keep entertaining us with the best always! All the best for the upcoming years too!
Bekaboo | New Webseries by ALTBalaji